---
The Best Bread Makers For Those Who Can't Bake
If you love the taste of freshly baked bread, you've probably considered buying a breadmaker. Having the option to make your own bread at home is also very convenient if you have special dietary requirements or allergies, as your control over the ingredients means you can be confident about what you're eating.
If you're a less than experienced baker, however, the prospect of baking your own bread can seem daunting. With so many bread maker machines on the market providing a wealth of features, selecting the best machine for your novice needs may feel overwhelming.
Luckily for you, we're here to help. In this article, we've reviewed five of the most user-friendly bread makers for beginners so you can start to enjoy delicious homemade bread in no time.
Zojirushi is one of the biggest names in home bread baking, and the Virtuoso Plus is an extremely popular model for both beginners and experienced bakers alike. With its long horizontal shaped bread pan, the Virtuoso Plus bakes loaves that are much closer to traditional, long-shaped loaves. This is ideal if you are looking for regular shaped bread slices for use in toasters and sandwiches.
This bread maker is renowned for its special diet programs, making it extremely easy for beginners to bake bread suitable for special dietary requirements without having to go through trial and error experimentation. Homemade salt-free bread, gluten-free bread, sugar-free bread, and even vegan bread can all be easily made with no prior experience necessary. What's more, the Virtuoso Plus also has three programmable functions, so you can store your own custom bake settings as you progress and try out new ideas.
In terms of performance, the Virtuoso Plus is well ahead of the competition, thanks to its dual kneading blades that optimize the process for lighter, tastier bread. The dual top and bottom heater ensure that your loaf is evenly baked all-round, while the three crust settings allow you to choose between a light, medium, or dark crust. The only area where the Zojirushi lags behind other models is its rapid bake program, which takes almost two-and-a-half hours. Accordingly, if you're looking for a fast bread maker, this isn't the one to go for. The only other issue is that there is no alarm before the baking cycle starts, so you won't get a reminder when it's time to add any extra ingredients.
Horizontal pan shape.

Dual top and bottom heaters.

Double kneading blades.

Special diet programs.

Three programmable memory courses.
No alarm before baking cycle starts.

Rapid programs considerably longer than other models.
If you're just getting started home bread baking, then the Hamilton Beach HomeBaker makes a great first choice. It's a fairly inexpensive, low price bread maker packed with features useful to both the beginner and experienced baker.
You can easily choose from 12 baking settings which are clearly visible on the large digital display, including a gluten-free setting, French style bread setting, express settings and various others. This range of programs is ideal for beginners as there are plenty of useful, basic bread baking settings as well as other functions that you can try once you're more confident. There is also the option to choose your crust baking setting, with a choice between light, medium, or dark so you can bake your bread exactly how you like it most.
Another important feature is the 13-hour delay timer, enabling you to add your ingredients and to set the bread maker to start at a later time. This means you can have freshly made bread ready whenever you need it, without the hassle. Likewise, the dishwasher-safe pan also adds to the convenience of this bread maker as it cuts back on your time spent washing up. On the downside, this model wobbles or vibrates while it is working and can be quite noisy on the counter during the mixing phase. This doesn't affect the quality of the results, but may get irritating if you're sensitive to noise.
12 baking settings

Large digital display

Up to 13-hour delay timer

Three crust settings

Dishwasher-safe pan
Rattles during mixing phase
Ideal for beginners with families to feed, the easy-to-use Oster Expressbake bread maker has a generous two-pound capacity. With twelve programs and three crust darkness settings, you can bake your bread just how your family likes it. One of the main advantages of this bread maker is its Express setting that bakes fresh bread in under one hour. You can also use this mode to create homemade doughs for family pizza night.
The Oster Expressbake also has a 13-hour delay timer feature so you can wake up to, or come home to, the smell of freshly baked bread. Simply place your ingredients inside the bread maker and set the timer accordingly. The large control panel with LCD display is clear and simple, while the touch buttons make it easy to select your program and start the machine.
During the kneading stage, however, this bread maker can get rather noisy. It also has a tendency to move around when the paddles are turning, so a little caution is needed to make sure it doesn't wander too far. You could resolve this by wedging it in place on your counter, or placing an unbreakable, heavy object on top. Despite these issues, it's a good basic model that is simple to use for complete beginners.
Two pound loaf capacity

12 programs

Three crust settings

Express setting

13-hour delay timer
May move around during kneading

Noisy
This bread maker by Sunbeam is a popular choice with beginners. It has 12 preset functions that include standard white, whole-grain and sweet bread, among others. There isn't a specific gluten-free program, and while you can of course simply use gluten-free dough on any of the programs, this might be a drawback for beginner bakers who are looking for a quick and easy way to bake homemade gluten-free bread.
The Sunbeam features a convenient delay timer of up to 13 hours, making for a highly convenient way to organize your baking so that you can have freshly baked bread ready when you want. With a one-and-a-half to two pound loaf capacity, this model is ideal for larger households or smaller ones that enjoy a lot of bread. With three crust settings, you can bake your loaf exactly how you like it.
If you have a small kitchen, note that this bread maker does have a rather large footprint. If you don't expect to be baking often, you may be better off with a smaller model. On the whole, though, this is a good budget bread maker, with easy to use touch button controls and an LCD display that lets you know which stage of the baking process is currently underway. This is helpful to have when you don't have much experience as it gives you a better idea of the process and time frame.
12 functions

Three crust settings

Choice of 1.5 or 2 lb loaves

Delay timer

LCD display panel
Large footprint

No specific gluten-free program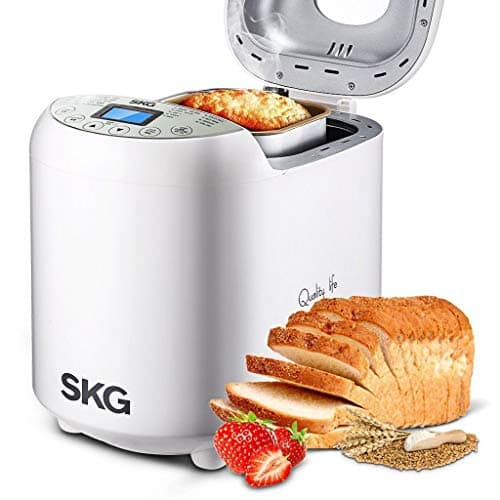 The SKG Automatic Bread Machine is a good choice for ambitious beginners who have high expectations and is suitable for any size household and ideal if you enjoy entertaining. This maker gives you the flexibility to bake a one pound loaf for at home or a two pound loaf for when you're expecting guests. The convenient 15-hour delay timer is also an extremely useful function, allowing you to set your bread maker to start the process at a convenient time. There is also a choice of three different crust settings to customize your loaf to your desires.
With an incredible 19 automatic programs, there's certainly plenty of choice for beginners. There are also easy-to-follow recipes included for each program, making this model a great way to get started making bread at home. Options range from French to basic, whole-wheat, and gluten-free. There is even a yogurt setting, as well as jam, dough and cornbread programs, features that make this bread maker stand out from the more basic models. While it can cost more than the most basic bread makers, it offers more choice and flexibility. The only real drawback to this model is the lid: its hinge doesn't seem quite as durable as many of the metal ones found on other bread makers. Provided you use it carefully and verify that the lid is securely closed, though, this should not detract from this bread maker's performance.
19 automatic programs

Three loaf sizes

Three crust colors

15-hour delay timer
Plastic lid hinge is flimsy
Comparison Chart
Buyer's Guide:
Best Easy To Use Bread Makers
To help you to choose the best bread maker, we've compiled this handy bread maker buying guide for beginners. Read on to find out what you need to look out for in a bread maker and how using a bread maker can save you time and effort.
Final Thoughts
Baking homemade bread became incredibly easy when the bread maker was introduced, and today the market is filled with some really fantastic options for those who want the treat of a fresh loaf with the push of a button. It can be difficult finding the best easy-to-use bread maker that provides all of the functions that you need, but after reviewing the above models, our top pick the Zojirushi Virtuoso Plus.
The price tag is undoubtedly substantial, but thanks to its dual kneading blades and dual heating elements, this model gives consistently good results with every bake. It is ideal for beginners and includes so many speciality healthy programs that you so you can start enjoying bread that's suitable for your dietary requirements immediately.
That said, if you're looking for a budget beginner's bread maker, we recommend the Hamilton Beach HomeBaker. This model still has plenty of useful functions and essential programs at a low price. Complete with a delayed-start timer, crust settings and a large digital display, the HomeBaker is a great choice if you want to try out home bread baking without the commitment of spending a large sum of money.