---
Best Kitchen Appliances for Your Dorm
Being a college student can be a bit of a rollercoaster ride. In order to settle in comfortably, as well as fulfill your nutritional needs, it's important to kit out your dorm room with some essential kitchen appliances. Even if you are extremely limited on space, being able to make yourself a snack or hot drink will make you feel more at home and will undoubtedly save you precious time and money.
To help you make the right choices, we've scoured the market and reviewed seven of the most useful kitchen products for dorm rooms below. All of our reviewed items have been specially selected for their compact size, so no matter how small your room is you should have no problem squeezing in some of these must-have appliances.
1. Cuisinart Microwave Oven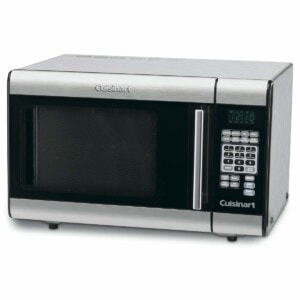 A microwave oven is a dorm room essential. This stylish stainless steel model by Cuisinart will not only look great in your room, but it's also perfect for reheating, cooking, and defrosting with its 1,000-watt power rating, eight preset levels, and 25 pre-programmed settings. This, along with the LCD screen complete with touchpad controls, makes this model extremely rapid and easy to use. Whether you are looking to cook up a quick meal from scratch or just to heat up a snack, this microwave makes a great option complete with 10 power settings so you can prepare a greater variety of dishes.
With its one cubic foot capacity and 12-inch glass turntable, this compact appliance has all the capacity you'll need without being oversized, making it the perfect choice for your college years and beyond. In fact, it even comes with a limited three-year warranty for extra peace of mind.
Just be aware that this model tends to beep rather loudly when it's done, which could be fairly disturbing if you're using it late in the evening. In addition, the minimum time setting starts at 30 seconds, so if you want to just quickly microwave a snack for less than that you'll need to stand over it and stop it when you're ready.
PROS
CONS

1,000 watts
Stylish stainless steel construction
LCD screen with touchpad controls
25 pre-programed settings and eight presets
10 power levels
Three year warranty

Loud beep when done
Minimum time setting 30 seconds
2. AmazonBasics Stainless Steel Kettle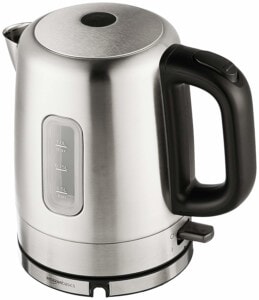 Whether it's for your hot drinks or instant snacks, a kettle is an absolute must-have for your dorm room, and this stainless steel model from AmazonBasics ticks all of the boxes. It's good looking, durable, and boils quickly. Importantly, it has an easy-fill cordless design, so wherever you fill it up you won't have to worry about winding up cords and getting the electrics wet. The base has a long 30 inch power cord, which allows you more flexibility than many other models when it comes down to placement. Importantly, this kettle features an auto shut-off function, ensuring that it will cut out once it has boiled or if there is insufficient water in the reservoir.
While this model makes an excellent value option, just be aware that this single-walled kettle does not feature any insulation so it does get very hot. In addition, it tends to make a fair amount of noise as it boils, so you might want to avoid it if you tend to go in for late night hot drinks and have a sleeping roommate. If, though, you are looking for a low price, good quality kettle for your dorm room then this popular model makes a great choice.
PROS
CONS

One liter capacity
Easy-fill cordless design
30-inch base power cord
Auto shut-off
Durable stainless steel construction
3. Keurig K Mini Single Serve Coffee Maker
For many students, coffee is essential for early mornings or for burning the midnight oil to finish off that overdue assignment. You likely won't have space to bring along your espresso machine, though, and the cost of take outs will soon add up. Here's our solution: the Keurig K Mini.
At just five inches wide, this single serve coffee maker will fit in even the smallest of rooms. Not only is it extremely compact, it also brews great coffee and is very easy to use. Simply fill up the water reservoir to the cup size that you want to brew (between 6-12 oz) and hit start. Aside from its fast brew time, this compact coffee maker features cord storage to keep your room looking tidy. It is also travel mug friendly, ideal for those hectic mornings when you've gotten up late and need coffee to go.
While we highly recommend this handy little model, you should be aware that the water reservoir is non-removable, which isn't great when it comes to filling and cleaning. Furthermore, the Keurig K Mini does not feature a built-in pod storage area, which means you'll need to store them somewhere else within easy reach.
PROS
CONS

Under five inches wide
Brews any cup size from 6-12 oz
Fast brewing
Cord storage
Travel mug friendly

Non-removable water reservoir
No pod storage
4. Instant Pot Multi-Cooker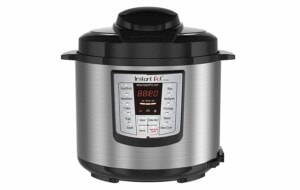 Looking for a space-saving appliance to help you to create easy and inexpensive meals? Then check out the six quart Instant Pot Multi-Cooker. This handy appliance can replace six different individual appliances to save you space, money, and hassle.
Use it as a pressure cooker, slow cooker, rice cooker, warmer, or steamer. Purchasing this essential appliance allows you to cook real meals with next to no experience. With adjustable temperature settings and easy-to-use one-touch controls, this Instant Pot can be used to cook a vast multitude of dishes.
Unfortunately, the accompanying documentation could be clearer. You should also bear in mind that this appliance will take a while to reach full pressure, which can extend your projected cooking times considerably. That being said, the Instant Pot Multi Cooker still has a lot going for it. It is programmable, so you can set it to start at a convenient time later in the day. It also features an automatic keep warm function to ensure that if you're delayed or something comes up around dinner time, then your meal won't be stone cold or burnt by the time you get home.
PROS
CONS

6-in-1 multi-cooker
Programmable
One touch controls
Adjustable temperature settings
Automatic keep warm

Poor documentation
Takes a while to reach full pressure
5. Cosori Personal Blender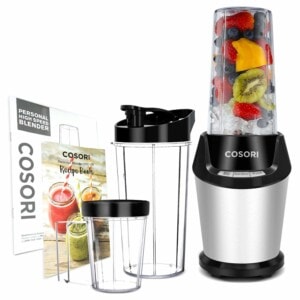 Keep on top of your game with nutritious home-made smoothies or savor a refreshing iced coffee from the comfort of your own room with this excellent value personal blender by Cosori. Its powerful motor capable of speeds up to 23,000 rpm and hardened stainless steel blades will make light work of any ingredients, including ice. It is also easy to use and clean, making this an ideal blender for your busy college years. The overheating protection function ensures this model stays in prime condition and for extra peace of mind there's a two-year warranty available.
To make using this blender and enjoying your creations even better, this model comes complete with a full accessory pack including a recipe book, a cleaning brush, a storage lid, a travel lid and three containers. So, once you purchase this appliance, you won't need to buy any extras.
Bear in mind, though, that this blender can get rather loud and might disturb your roommate or neighbors. The blade cap can also be a little difficult to remove. For a compact model at a great price, though, this blender makes a good choice when you are short on space.
PROS
CONS

Powerful 23,000 rpm motor
Overheating protection
Easy to clean
Hardened stainless steel blades
Comes complete with accessories

Fairly loud
Difficult to remove blade cap
6. Black & Decker Compact Refrigerator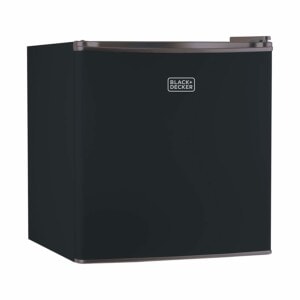 This compact model by Black & Decker will fit into even the smallest of dorm rooms. With its 1.7 cubic foot capacity, this model has enough space for all of your essentials while remaining small enough to fit under your desk. It has a full-width glass shelf to increase the amount of useful storage space and also features a full-width and half-width door compartment. The large door holder can accommodate two-liter bottles, leaving you with plenty of space in the main compartment for your shorter items.
To ensure that this fridge fits into as many places as possible, the door can be hung on either side. This handy appliance also has a full-width freezer compartment complete with an ice cube tray, which is handy for hot summer days or when you want to make refreshing, cool drinks.
While this is an excellent space-saving model, it is noisy when it runs. The door compartment shelves could also be a little more robust, and you may need to be careful when opening and closing the door if you are storing any weighty or tall items in the door storage areas.
PROS
CONS

1.7 cubic foot capacity
Door accommodates two-liter bottles
Full width freezer compartment
Reversible door
Full-width glass shelf

A little noisy
Flimsy door shelf bars
7. Oster Toaster Oven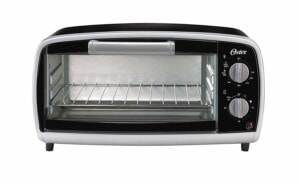 When you're short on space, it makes sense to purchase appliances that have more than just one function. This toaster oven gives you plenty more flexibility and allows you to heat up and cook various other items apart from just toast.
This four-slice toaster oven even comes with a durable baking pan as well as a removable crumb tray to help you to keep it clean with minimal hassle. With a large adjustable temperature range from 150 to 450 degrees Fahrenheit and a 30-minute timer, this practical toaster oven is capable of cooking a variety of tasty dishes, perfect for when hunger strikes and the cafeteria is closed. If you do want to make toast in it, there are several toast shade settings so that you can get your toast just how you like it without worrying about it burning.
If you are thinking of purchasing this appliance, however, please be aware that the external housing does get very hot. This will affect where you can place it in your room and could potentially be a burn hazard, so be sure to pay particular attention to any safety precautions listed by the manufacturer. You should also be aware that this mini oven also takes a while to heat up, especially when using it at higher temperatures.
PROS
CONS

Four-slice toaster oven
Temperature range: 150-450 degrees Fahrenheit
Removable crumb tray
Toast shade settings
30-minute timer

External housing gets very hot
Takes a while to fully heat up
Final Thoughts
Your college years are sure to be full of new experiences, challenges, and friends, but it's still essential to take care of yourself throughout these formative times. It may be the last thing on your mind when first embarking on college life, but having a space where you feel at home and being able to make yourself a snack, hot drink, or cook a meal will go a long way to making your college adventure more comfortable.
Choosing one of our picks of the best kitchen appliances for your dorm will be a decision you'll relish when hunger strikes your late-night study session, particularly as they can offer cheaper and much healthier alternatives to the student favorites of daily noodles and grease-laden take out orders.