---
Living Big in a Small House: 5 Inspirational Examples of Tiny Homes
Recent years have seen an increase in family home sizes, a growth owed in part to the tendency as a nation to view the size of our properties as a measure of our wealth and success. Alongside this cultural shift, house prices continue to soar, and as a result young couples and families must resort to lifelong renting or decades of crippling mortgage debt.
A quiet yet growing movement of people, however, are choosing to live differently as part of the "tiny house movement." These innovative individuals are instead choosing to live in tiny houses, usually around 500 sq. feet of space or less, and thus enjoy the benefits of low living costs and maintenance as well as increased mobility.
Below we have included the stories of five inspiring tiny house projects to give you a taste of what this way of living has to offer.
1. Rob Greenfield's 100 Square Foot Tiny House
According to his website, Rob is an adventurer, an activist and a 'dude making a difference.' While the tiny house movement started as a protest to the large, extravagant and expensive, it is unfortunately difficult to find high tech tiny houses for over $100,000. For someone like Rob, this is absurd, and so he set off to build his own tiny house that facilitated eco-living.
As someone who lives simply and debt free, the point of Rob's house is for it to be simple and affordable. To maximize the environmentally friendly element, he used 99% repurposed materials. While this was time-consuming since it took scouring for what he needed on sites like EBay and Craigslist, as far as Rob is concerned it would have been wrong to not have made use of second-hand materials.
As a way of keeping costs down, Rob not only passed along any leftovers from his project but he also had a helping team of community volunteers. Many would call Rob an idealist because he believes that people have an ability to help each other and exchange goods and services rather than money, thereby building a community.
As a result, his building project grand total ended up being under $1500, which is an incredible feat in a climate where most people would add several zeros to that figure when building their dream home. Now, Rob thoroughly enjoys his sunny, small-sized, eco-friendly, and low cost tiny house and continues to inspire others to live simply and happily.
2. Mr Money Mustache's Tiny House
Mr. Money Mustache (MMM)  is run by a Canadian father and family man who promotes living a life of luxury at the fraction of the price many people believe is necessary to live a 'middle-class' existence. His adventures started as he listened to the grumblings of friends and acquaintances who complained of tight budgets and money shortages, all the while making purchases laden with debt beyond their means.
His tiny house project began as he was looking to create additional quiet workspaces for his MMM group. He started off using pressure treated lumber for the floor and subsequently went on the make the walls. The walls were made flat and on the floor before being tilted up. This makes for heavier lifting in his opinion, but it's also a foolhardy way of making walls with straight lines that fit perfectly together. The roof is metal with a 2% slope to ensure rainwater cleanly runs off.
In terms of lighting, MMM advises using LED lights around a tiny house property as a smart way of avoiding complicated electric wiring. While it appears he bought all of his raw materials new, his budget still rested at a modest $3500. This amount is fantastic for a small house that, with a little plumbing, has potential to become a modest and comfortable full-time residence.
3. Bryce Langston's Living Big in A Tiny House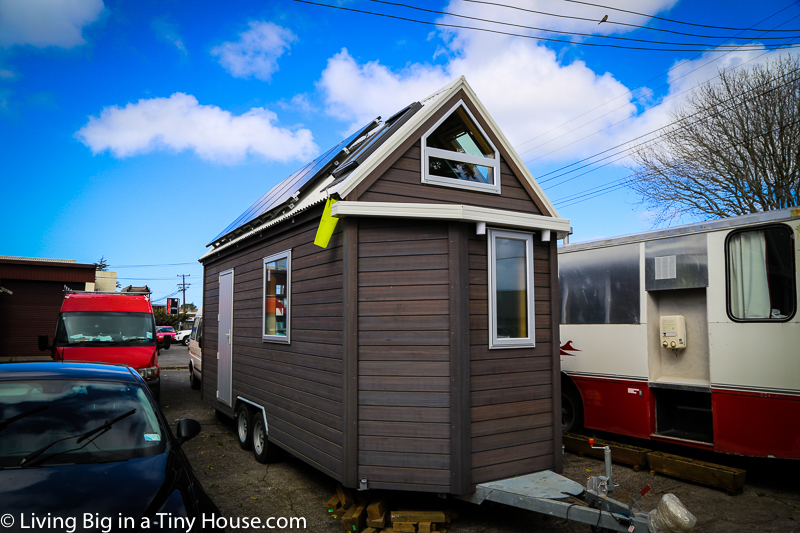 Bryce lives in Auckland, New Zealand, and has traveled up and down the country in recent years in order to connect with those choosing to live against the grain. Like many countries in the developed world, house prices have skyrocketed in New Zealand, with the average cost of purchasing a home being around the $1 million mark. This has forced young Kiwis to think differently and get innovative with their dreams to own their own properties whilst remaining debt free.
Bryce has a background in Permaculture, so his tiny house journey has thus included exploring the best methods and techniques to build a sustainable and lightweight home that is also toxic free. Some of these principles include working with nature and the environment and observing natural systems to learn about harmony between things. He believes if you work and build in this way, then your project will be more sustainable. In a world accustomed to instant gratification and fast results, "slow and steady wins the race" seems to be the mantra of many tiny house families.
In addition to the Permaculture-friendly construction, Bryce has also incorporated smart spacial design to get the best out of his tiny house. He is continually coming up with new ways to achieve full self-sustainability, such as operating off-grid by using renewable energy, making use of rainwater, and managing waste effectively.
4. Mini Motives: Macy, James, Hazel, Miles & Denver the Dog
Most skeptics would entertain the thought of a tiny house for a single person or couple – but what about a family? This tiny house started as a home for mom Macy, and resulted in a 232 sq. ft masterpiece created on a gooseneck trailer and built for a mere $13,000.
Their tiny house adventure has inspired people around the world. Their blog has enjoyed more than 7 million hits and their design has been featured on countless websites and print material, demonstrating to the world that simple living is certainly attainable for the modern family.
Macy designed the house herself, since both she and James come from architectural backgrounds. A lot of thought went into the design to make it the perfect home for them aesthetically and practically. The walls, for example, are made from wooden pallets which act as the first defense against rain. This gives the house a chic, modern look.
There's also a cavity space behind this initial wall that cleverly enables water that penetrates the wood to drain naturally while also allowing adequate airflow for evaporation. An overhang bedroom design at the rear, expands space in a smart way, without compromising on the benefits of a moveable trailer house. To promote self-sustainable living, they have also incorporated green features such as composting.
The family is currently working on building another tiny house on a 1966 Aloha travel trailer, so that they may expand their adventures by taking a year-long trip traveling around the U.S. Having perfected working remotely, and living in a minimalist way, it's the perfect plan for a family that thrives on connection and meaning both with each other and the world around them.
5. Tiny House Family: Hari, Karl, Ella & Archer
This frugal family made a tiny house work for their family of four. The foundation of the tiny house is an 8′ x 21′ flatbed trailer. The footprint is about 168 sq. ft, in addition to two separate sleeping lofts. Using several design tricks, they managed to make space for storage in various places around the home. Examples include a shoe bench that doubles as shoe storage; space under the couch for additional storage, and various hooks on the walls to keep things off the floor.
The Tiny House Family built themselves a tiny house in which to live temporarily while they build the home of their dreams. This means that they are saving the money most people spend on renting while building a house mortgage-free. They have made this work for over 3.5 years and have plenty of advice for those on the path to minimalist living.
They believe that the key to tiny house living is to scale down on your possessions. The less you have, the less space you need. Here are some tips:
Library: instead of accumulating books, use the library. Read your books and return them. Using the space at the library to work is also a great way for family members to get work done without bumping into each other.
Clothing: children grow out of clothing quickly. Pass on clothes that are no longer needed or donate them. Anything too worn out can be repurposed for cleaning.
Daily purge: Everything is restored to its rightful place before bedtime.
Shopping: Shopping, something people do all too often and easily, is only done only as needed.
Food: Grow your own food and buy dry goods in bulk.
Storage: Store food in shallow cabinets so they can be easily managed and replenished if needed.
Hari candidly describes parenting in a small space as something that forces closeness and mindfulness. With less space for family members to close doors on each other, she believes it makes them more tolerant, kind, and compassionate. In a society that focuses on material possessions and expensive gifts that express affection and love, minimalist tiny house living promotes value and gratitude for things that matter. She believes she has raised children who are consciously connected to the land and have a passion for wildlife and the environment, all this being largely due to the tiny house in which they were raised.
Final Thoughts
In a rapidly evolving world where the capital and economy operates on a top heavy system, more and more people are falling into the trap of living beyond their means and thus becoming saddled with debt and the accompanying stress that goes with it.
Tiny homes could offer a solution to these problems, freeing up your income to live simply and beautifully in a self-sustainable way. Tiny house living is much more than having a place to live. It's about living free from rent, mortgage and utility bills. Rob, Mr Money Mustache, Bryce, and the other families we have mentioned prove that with a bit of determination, imagination and hard work this dream can become a reality to allow you to live free from the stresses of modern life.