---
Make Your Own Furniture: The Top 6 Modern Designs for You to DIY
Once you've created a style for your home, you'll probably want individuality to shine through in the furniture you use to accent the room. What do you do, though, when your choices are governed by a collection of off-the-shelf styles that usually come in a flat-pack form replicated the world over?  Well, you could go "designer" to give your space a "wow" factor, but if you do you'll probably need to drop serious cash.
There is another way to create a modern style, and that's to do it yourself (DIY). This might be a route that most wouldn't consider, but those who study modern design will note that many classic furniture styles are based around a few basic principles.
What is "Modern" Design?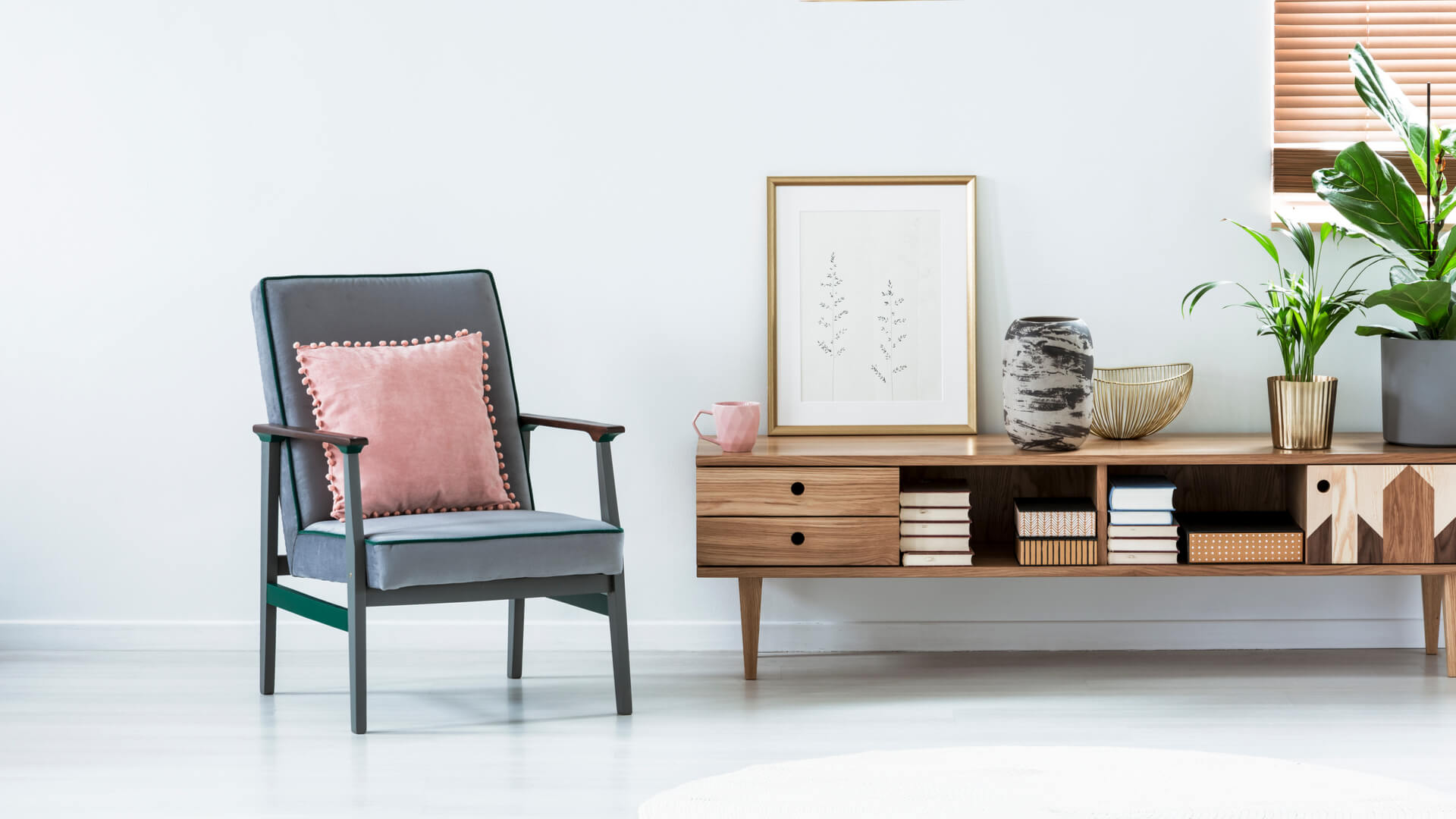 Design, like most things, tends to mirror the times in which we live. Throughout history, we can chart the changes in furniture styles based on advancements in production and influences in world events and trends.
Modernism is a term that loosely describes post-World-War II design that combined the harmony of the earlier Arts and Crafts movement with the Bauhaus emphasis on functionality, minimalism, and practicality. It was a style borne from an era when the frivolousness and fussiness of previous periods were wiped away by conflict and tastes were driven by the need to scale back in favor of minimalism.
Classic Modern Designs
These modern pieces not only have to look good but they have to perform a function too. Homes have become ever smaller for the most part, so filling your spaces with functional items is crucial. Let's look at some key pieces.
Coffee Table
Your coffee table is often the centerpiece of your living room, so it must offer classic, minimal lines and be durable. A version made from materials like concrete can accomplish those aspects, but to purchase such a table in a boutique furniture store would set you back thousands.
You can create the table top by making a frame and then pouring in the wet concrete and letting it set. The base can then be constructed using a wooden frame and legs.
In truth, the design could accommodate any style and taste, but be sure to use a sturdy frame as the concrete is not light. The beauty of such a bespoke furniture piece is that it is a one-off and no one else will have the same item.
TIP – Polished concrete is very tactile and makes an attractive surface for your coffee table; once the concrete has set, start sanding the surface with coarse sandpaper, working up to the finest grade. Wipe down the surface and then seal with a stain resistant sealer to lock in the finish and to stop dirt penetrating through.
Clothing Racks
Forget that traditional closet design of a wooden box with two doors; think steel or copper tubing and minimalist design. Create that modernist, industrial style by cutting two pieces of plumbing tubing at 80 to 100 inches in length and two at roughly 40 to 60 inches. Of course, the size of your rack is purely a personal one, and for those with a larger wall space, the sky's the limit.
You'll also need four 3-way joints for the cross sections. What you want to achieve is a 2-rung ladder effect, with the upper tube reserved for the clothes hangers while the lower tube makes an ideal shoe rack. Once assembled, you can simply lean your rack at a 45-degree angle against the wall, creating a practical piece of furniture that costs very little, but looks unique.
TIP – Use rubber feet attached to the bottom of the tubing to stop it from slipping.
Wardrobe
If you decide that a closet is what you want, then you can create a modern style for your home by getting creative and trying to use materials that aren't traditionally associated with furniture making. For example, using corrugated tin typically found on industrial roofs is a great material that looks and feels tactile. You can also try using metal tubing, plastic, or other industrial cast-off materials. Starting with a basic wardrobe-shape frame made from timber, you can use these materials to hang on the sides and doors is where you make your statements.
TIP – Instead of using wooden legs for the base of your wardrobe, casters can be a beneficial change-up as they look good, they uphold minimalist design, and best of all your wardrobe is now easily maneuverable.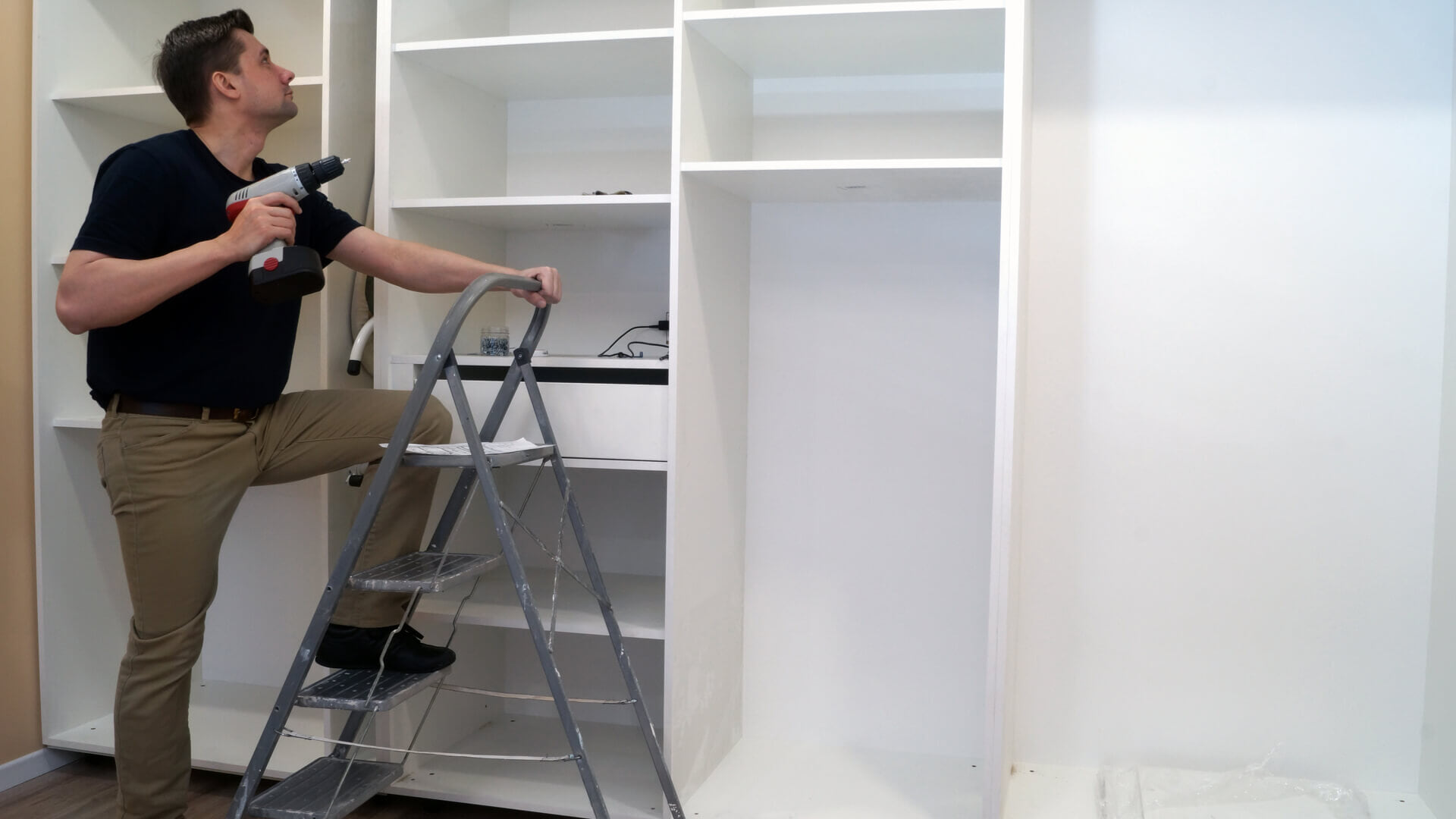 Sofa
Creating a showpiece design is easier than you think when it comes to your sofa, and you can maintain continuity with the theme of using industrial materials as old pallets are a great source of (cheap) inspiration.
Once you've sanded the pallets, taking care to remove any sharp bits and unwanted nails, you are ready to start building the sofa. For a basic template, lay two pallets next to each other and stack them two high to give you the base. Next, stand a pallet on its end, against the rear of the stack and fix in place. Repeat this process with the other pile, and what you now have is a basic sofa design with a straight back.
The great thing about using pallets is that you can create pretty much any design to suit the room that you want. Then, once you are happy with the style of sofa, you can think about what material and foam you want for the seat and back cushions. Once you discover the beauty and raw industrial feel of pallets, there will be no turning back.
TIP – Don't confine your pallet furniture to the house. Pallet garden sofas look stylish, as do tables and even modernist reclining steamer chairs fashioned from this throw-away material.
Shelving
One of the basic rules of creating unique furniture that fits with the modernist theme is to refashion items that had other uses in the industrial world and what better example to use than a step ladder. Try and source a wooden ladder if you can as they look battered and well used, but remember that we are aiming for the modern style, so if it has to be an aluminum one then that's fine too.
The "A" design forms the basis of an excellent shelving unit; just buy some wooden floorboards or scaffolding planks, sand and cut them to the required lengths and then fix them in place with u-shaped brackets that hook around the ladder rungs and screw into the underside of the wood. What you have now created will be an endless source of wonder from your friends and relatives, as they marvel at your quirky taste and ingenious artistic abilities, and it will make you smile every time you look at it, knowing that you saved a lot of money.
TIP – Paint your shelves and step ladder the same color so that they blend in and look like they were always intended for shelving. Or you could distress them and really push the envelope on that urban industrial look.
Bed
Because beds are pretty similar in shape and design, it should be easy to replicate your bespoke creation using unique materials. A platform bed is a great example a simple design that looks good and costs a lot less than a designer shop bought bed.
This bed is constructed from a pine frame, with two feet running down the length of the structure. Pine boards are then screwed to the feet to create a platform. The headboard is attached to finish the whole thing off and create a stylish looking piece of handmade furniture. If you wanted to source an alternative material, then old floorboards, and again, pallets would be an ideal choice to use.
TIP – If you are worried that the mattress won't get air, you could leave one-inch gaps between the boards or drill breathing holes in the surface of the platform.  
Final Thoughts
Creating your own furniture isn't something that most people would consider, but creating bespoke pieces allows you to express your individuality in a way that gives you unique furniture for your home at a massively reduced cost compared to purchasing designer items. This furniture can look good, be functional, and best of all, you made it, so you're going to love it forever.
Maybe it's time we all started scouring reclamation yards for those unique items that we can upcycle into modern furniture, and the next time you are in the DIY store, when you look at plumber's piping, try and imagine your next project.