---
The Cost of Remodeling Your Bathroom
Imagine a taking a relaxing bath, washing away the stresses of the day with a good book and perhaps a candle or two. That's what a bathroom remodel could offer you, but what does such a luxurious retreat cost?
The average bathroom remodel could be anything from $15,000 to over $50,000 depending on the quality of the fixtures and the extent of the work needed.
If you are looking to increase the value of your home, bathroom remodels under $10,000 are more likely to produce a higher ROI at resale, typically returning 80 to 100 percent of the spend. That figure drops between 70 to 75 percent with remodels that cost above $20,000.
In this article we look at the cost of a typical remodel to help you assess whether a new bathroom is in your future.
DIY Vs. Hire Out
Your bathroom will likely be the smallest room in your house, but don't let that fact fool you into thinking it will be an easy job. Many seasoned do-it-yourself (DIY) enthusiasts gulp at the prospect of remodeling a bathroom, because of the technical nature of the work. Often, when you are dealing with plumbing, just like electrical wiring, things can get a bit complicated.
If you think you have the necessary skills and are undaunted by the challenge, then go for it, and good luck. By DIY-ing the bathroom remodel you are reducing the cost per square foot considerably. The average price if you use a contractor could be in the region of $150 to $250 per square foot compared to just $75 if you complete the work yourself.
On the other hand, by employing a contractor, you can simply let them get on with the task without the stresses that the DIY approach brings. You will also get guarantees once the work gets completed should anything go wrong, so it could buy you peace of mind for an extended period. In addition, you need to consider your timeline: how much time do you have to get the job done? A contractor will complete the work more efficiently and effectively, which may cost more in the short term but also means that you get to enjoy your new space much quicker.
Now, let's look at individual components:
Cabinets and Hardware
Average cost – $2,000
Every bathroom needs storage for the more personal items that are kept within, particularly if you have medicines and other products that need to stored away from little hands.
You could be mistaken when you imagine that a small bathroom will be cheaper to fit out with cupboards and storage, but the reverse is often the case: because of the compact environment, clever design techniques are employed to maximize the space on offer. Every inch counts, especially when the average bathroom is no larger than 100 to 150 sq ft.
Countertops
Average Cost – $1,000-$1,500
Countertops can add a slice of luxury to your bathroom. The countertop you choose should complement the scheme and add a touch of class. For that high-end look, you might have to shell out big bucks: according to a 2013 report by Consumer Reports, countertops range from $40 to $100 per square foot, with granite surfaces range from $50 to $250.
Faucets and Plumbing
Average cost – $1,800-$2,000
Faucets aren't cheap, with the average cost ranging from $150 to $350. When you add in the cost of a professional installation, at roughly $250, it ramps the price up further.
In addition, if you are remodeling the old bathroom, moving the sink or toilet will increase the spend as pipework will need to be rerouted to accommodate the new design. If you want to keep down the costs, try and work around the old bathroom layout. Moving the location of a toilet, bath, and sink could cause your budget to double.
Another thing to remember is that if you have an older property and the pipes are no longer standard fittings, your plumber may have to rip them out and replace them with new pipes that conform to regulations. If that happens, you could expect the amount to dramatically escalate because it's no longer a simple plumbing job, but a significant overhaul.
Lighting and Ventilation
Average cost – $600-$800
In such a small space, you might think that lighting a bathroom would be easy, but there are different considerations that you need to work out for the best way to light the room.
Task lighting – This is the lighting that is often situated over mirrors and vanity units to enable a clear view for performing various tasks.
Ambient lighting – Often the bathroom is the first place you visit in the morning, so having ambient light is a must to avoid being overwhelmed. As a creator of mood, ambient or soft lighting enhances the space for the user, making the bathroom a much more inviting room.
Accent lighting – Consider the accent walls with pictures or mirrors that could become smart features with the correct lighting.
Because of the level of steam produced in a bathroom, the ventilation is another essential consideration. If you don't allow the moisture to escape, mold and bacteria will grow, reducing the impact of your new and expensive bathroom very quickly.
Walls and Ceilings
Average cost – $600-$1,200
Choosing the right coverings for the walls and ceilings is crucial for maintaining the smart appearance of your new space. Choose moisture resistant paint that repels the high levels of liquid in the room and doesn't peel. Nothing ruins the impact of a high-end bathroom remodel like peeling and flaky paint. Moreover, if you choose the wrong paint, you are allowing mold to take hold.
The walls should have the same attention to detail. Maybe you will decide to tile the entire bathroom, but if you do, expect costs to rise. A tiler will cost on average $22 per square foot in labor costs and might typically charge you upwards of $1200 for an accent wall. Tiles take the advantage, though, because:
Tiles are easier to maintain and keep clean. They usually require a rub with a dry cloth to preserve their appearance.
Tiles repel the moisture better, meaning that they cost more in the short term, but last longer.
Try and choose a neutral color, and always allow a contingency of 10 percent for broken and chipped tiles.
Fixtures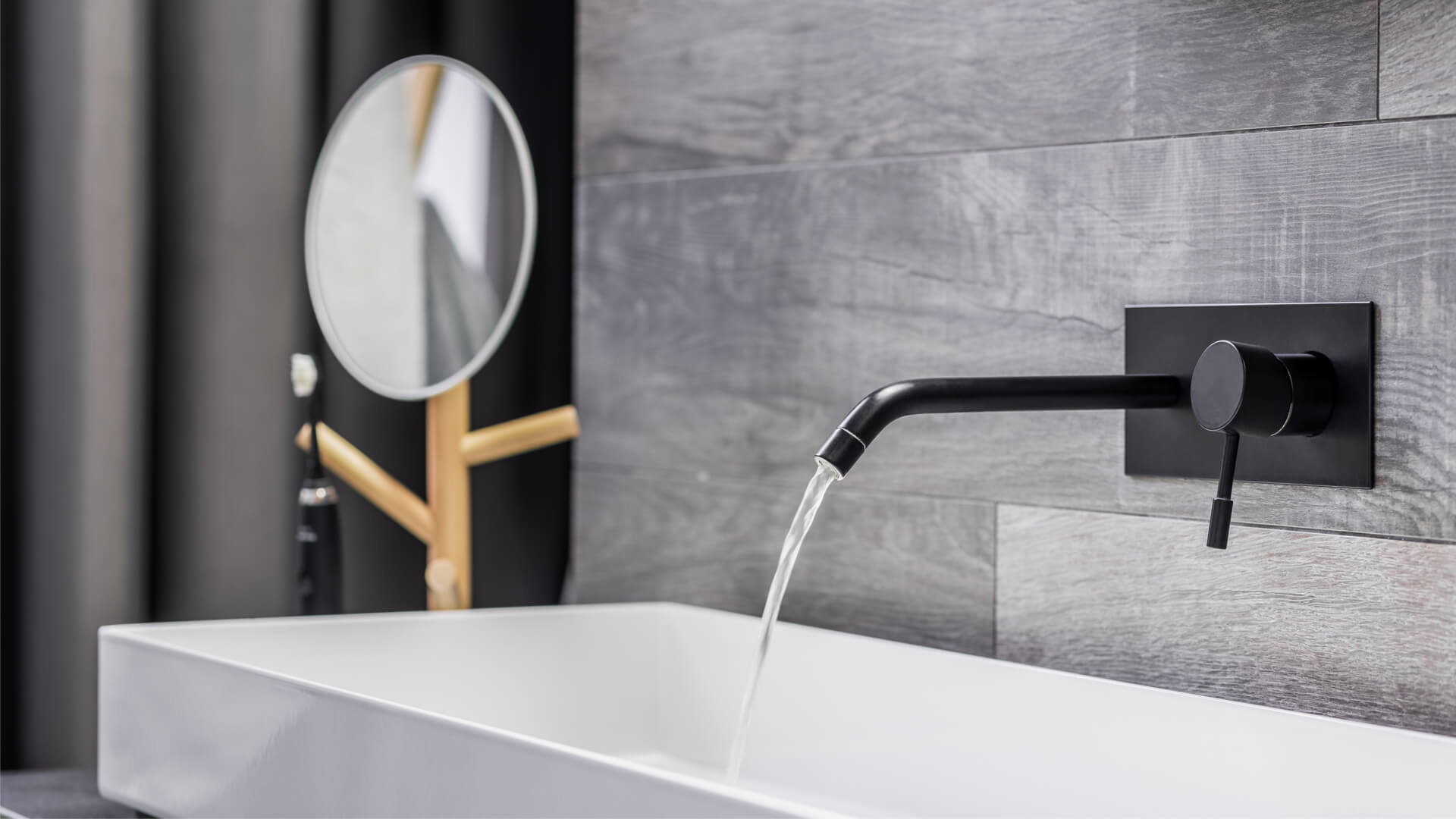 Average Cost – $3,500
The cost of baths, sinks, and shower enclosures, might seem like small components individually but when taken in sum can easily become the most expensive part of the remodel.
A high-end bathtub could cost as much as $3,000 on its own, a designer shower enclosure could rise in price to $6,000, and a state-of-the-art basin can cost somewhere in the region of $2,000. This is where the overall quality of your bathroom will be most evident, and so it's worth investing more in these areas to create that impact.
Flooring
Average cost – $1,200-$1,900
It is expensive to opt for a tiled floor, but the benefits will outweigh the cost in time, and you will have a smart bathroom for years to come. The prices do vary, though, depending on the tiles used and the subfloor materials like cement board.
There are other types of flooring that suit bathrooms, like vinyl tiles and rolled vinyl, but the overall effect of these cheaper materials is to lessen the impact of the remodel.
If you have a small space bathroom, try and go all out with the materials because the small size makes the extra cost worth it.
Installation
Average cost – $5,000-$6,000
You should expect an outlay of around 35 to 40 percent of the total budget of the remodel on labor costs. You can reduce your total bill if you agree with the contractor that you will source the fixtures and fittings. By doing this, though, you could be paying more per item as the contractor will have established contacts in the supply chain and may obtain these materials cheaper by buying in bulk or on an account.
Design Fees
Average cost – $600-$750
A good designer will cost you roughly 4 to 5 percent of the total budget. Resist the temptation to try and cut back at the planning stages as this is the crucial bit where the intelligent design will make or break your remodel. Designers are skilled at meeting the clients brief and squeezing every last inch of space out of your room. Also, an experienced designer will suggest things that you didn't even know was possible.
If you do decide to save money by designing the space yourself, there are some excellent design tools that can help you visualize your scheme and layout, and you can even view them in 3D.
Other Costs
Average cost – $750-$1,500
It is worth keeping a readily available fund in reserve for hidden costs and extras that inevitably rear their heads during a total remodel. A reasonable figure would be to factor in between 5 and 10 percent of the overall budget.
Cost Comparison Chart
| | | | |
| --- | --- | --- | --- |
| Item | Budget | Average | Upscale |
| Install bathtub | 1,000 – 1,200 | 1,900 – 2,400 | $3,000 – 4,000 |
| Tub only | 350 – 450 | $500 – 900 | $1,200 – 2,500 |
| Install shower enclosure | $1,100 – 1,300 | $1,500 – 3,500 | $4,000 – 8,000 |
| Prefabricated shower kit only | $450 – 600 | $700 – 1,200 | $1,800 – 2,600 |
| Glass shower door (prefabricated) | $160 – 250 | $430 – 600 | $750 – 1,380 |
| Shower head | $25 – 50 | $75 – 155 | $420 – 980 |
| 1 towel bar | $5 – 11 | $20 – 30 | $63 – 170 |
| Single sink vanity | $120 – 185 | $350 – 500 | $1,200 – 2,250 |
| Dual Sink vanity | $270 – 350 | $680 – 999 | $2,000 – 3,980 |
| Faucet | $58 – 85 | $115 – 250 | $550 – 800 |
| Toilet | $90 – 120 | $160 – 375 | $700 – 3,000 |
| Stand alone sink | $60 – 120 | $250 – 530 | $650 – 1,200 |
| storage cabinets (prefabricated) | $90 – 180 | $250 – 400 | $500 – 800 |
| Custom vanity countertop | $450 – 600 | $750 – 1,300 | $1,900 – 3,000 |
| Mirror | $40 – 85 | $150 – 375 | $650 – 1,300 |
| Tile Floor (30 sq.ft) | $900 – 1,000 | $1,200 -1,800 | $2,500-4,5000 |
| Accent shower wall ( 20 sq.ft.) | $520 – 680 | $750 – 1,000 | $1,500 – 2,300 |
| Tile backsplash (15 sq.ft) | $375 – 420 | $520 – 650 | $700 – 900 |
| 2 light fixtures | $130 – 250 | $400 – 675 | $930 – 1,550 |
| Paint (5×8 room, ceiling, trim) | $325 – 375 | $450 – 550 | $525 – 650 |
| Hang wallpaper (5×8 room) | $500 – 575 | $600 – 800 | $900 – 1,000 |
| Interior door | $50 – 100 | $170 – 280 | $500 – 950 |
Final Thoughts
Next to a kitchen remodel, a bathroom overhaul will give the most significant ROI when it comes to adding value to your home. That said, if you aren't intent on selling, don't worry if the costs rise slightly. Time is a great leveler when it comes to resale further down the line; the value of the house will have outstripped the amount you spent anyway.